For Giopato&Coombes the core of every project is the study of the light's behaviour, shapes, enhancing their beauty, and the technology that allows them to exist. Each lighting creation is a treasure of knowledge resisting the whims of fashion and trends. The studio is committed to exploring new paths in the lighting technology field, experimenting with different materials, and aiming for continuous innovation. With a positive approach and a constant desire to learn, Giopato&Coombes welcome new challenges to create something unconventional not seen before. Since the beginning, their focus has been on independence and excellence. The entire design process is developed internally, from concept to prototype, collaborating with local craftspeople to realize the product while constantly seeking new solutions. Giopato&Coombes believe that only with empathy, expertise, and human connections they can unfurl evocative emotions and inspire those who share our vision and enjoy our creations, one light at a time.
The Designers
Cristiana and Christopher, a dynamic professional duo and real-life couple, founded Giopato&Coombes, a lighting design studio based in Treviso. Cristiana and Christopher believe that light in living spaces can awaken your dreams, if only for a brief moment, crystallizing time. The Supernatural Daydream is what they call it.
They began collaborating with several design companies in 2006, and in 2014, they decided to take a chance and produce their first standalone collection. In that year, the Giopato&Coombes studio saw the light, allowing their projects to be fully realized, from concept to completion. For them, design means a connection between heart and mind; hence they chose lighting: for the surprise of the immaterial of the light, the multi-sensorial object becomes magical.
Cristiana Giopato studied Industrial Design at the Politecnico di Milano before continuing her education in Venice with a degree in Architecture. She began working with Patricia Urquiola after an internship in the office of Makio Hasuike, and then opened the Giopato&Coombes studio with Christopher. Christopher Coombes graduated from Brunel University in London with a degree in Industrial Design. After going to Milan, he worked for George Sowden and then for Sebastian Bergne, earning essential Industrial Design experience before launching the Giopato&Coombes studio with Cristiana.
BOLLE
The lightness of the soap bubbles has become a metaphor for the immateriality of light. Bolle is a collection of lamps in transparent glass, where the illuminating brass bulb is suspending between the spheres, giving light to not only the space but also the curved surfaces, multiplying reflections to amplify the magical effect. Together with selected artisans, Giopato&Coombes look for the best manufacturetechnicque for every single project. The Bolle lamps are hand blown by local Venetian artisans using the "a lume" technique.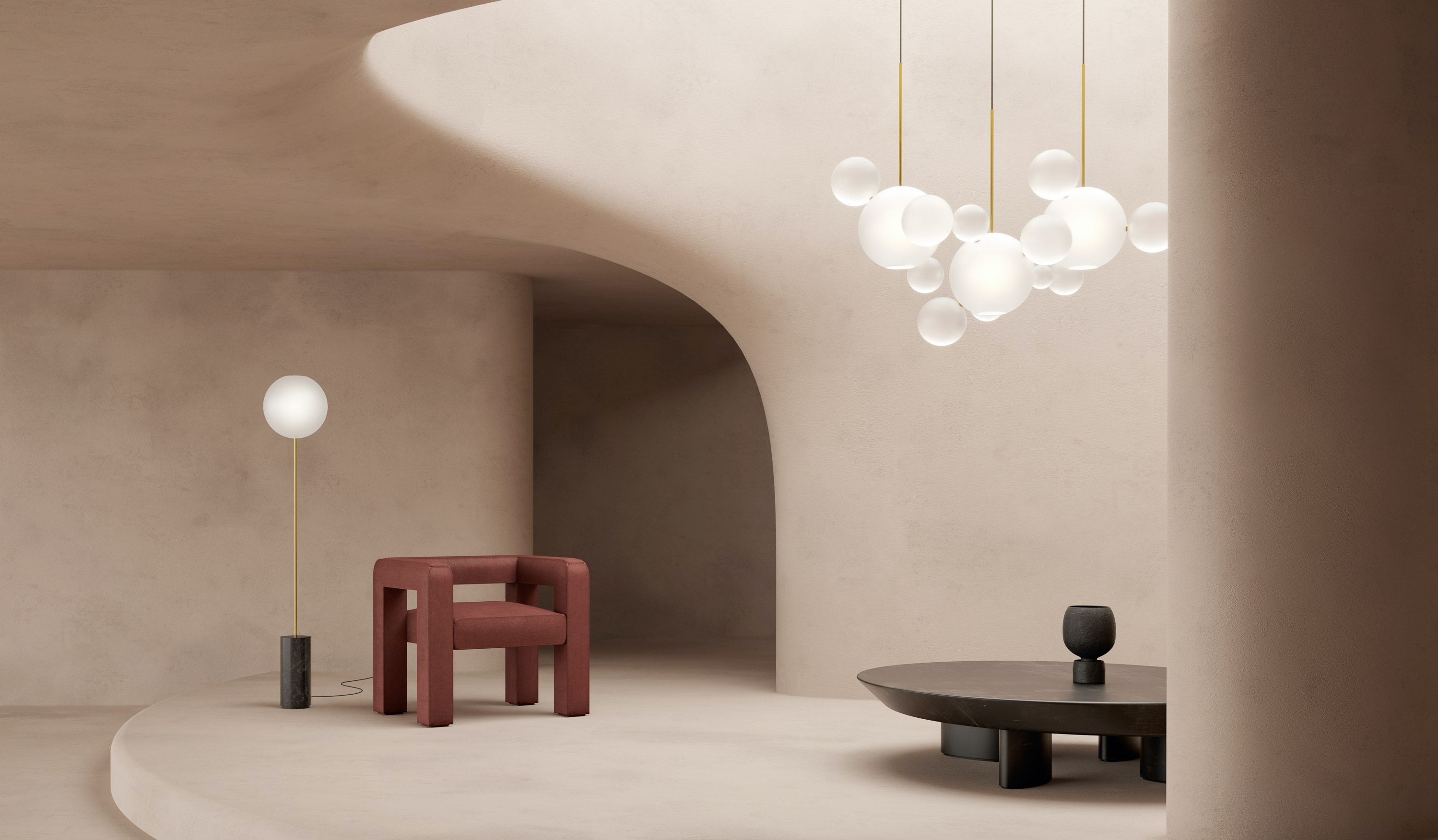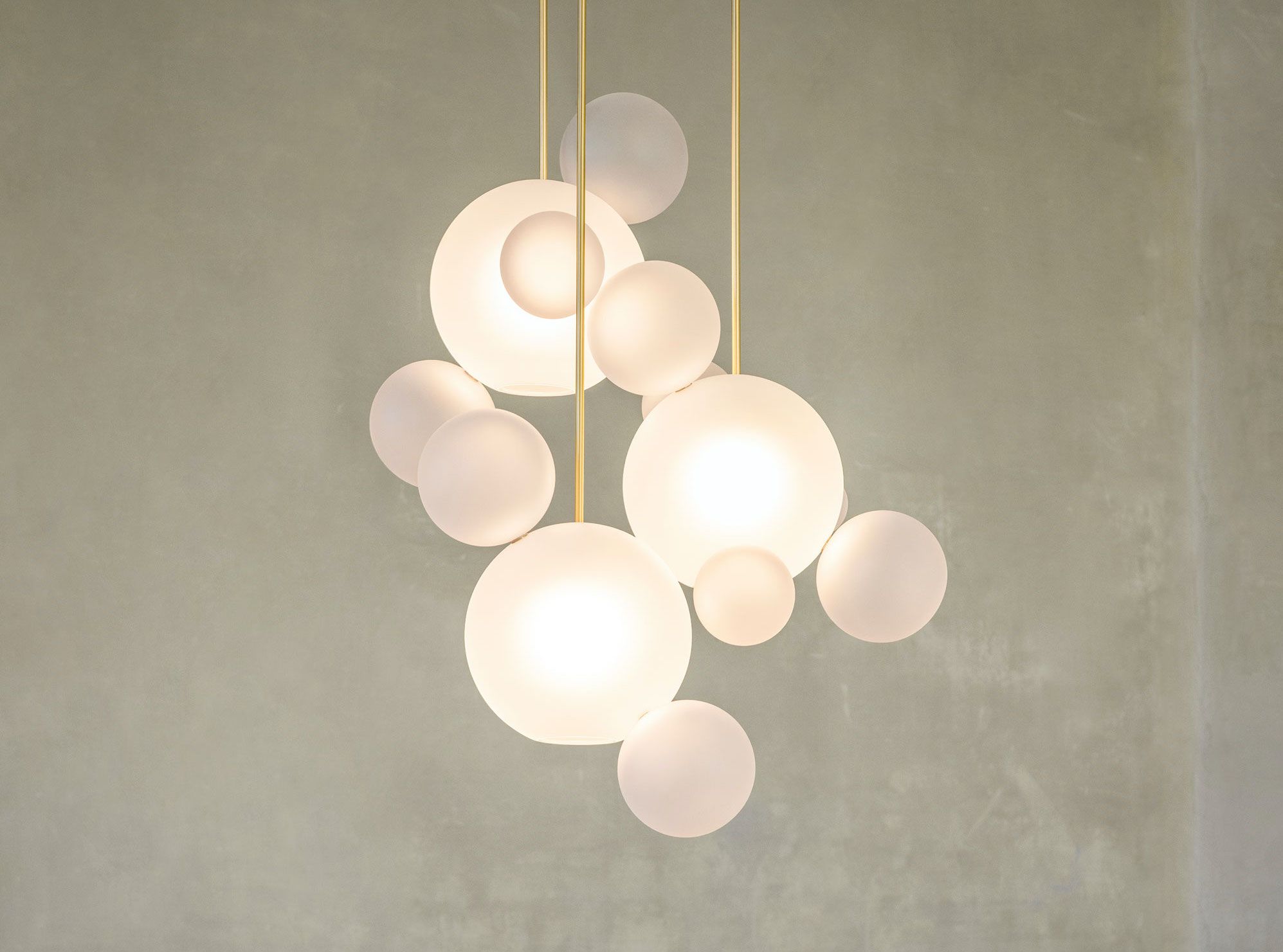 GEM
Gem is a suspension lamp, in hand blown glass, made with "a lume" technique, which is another expertise within the Veneto region. The surface can be clear or with a "corroded" finish, which seams like a white moon dust coating. There are several compositions from linear to bunches. The glass gems cling to a brass tube, via brass buds which contain a proprietary led source.
CIRQUE
Lamps with slender thread-like structures in brushed brass, that change form to create infinite geometric compositions. The figure, suggesting circus gear, is interrupted by capsules that project continuous light. Each capsule, made in ribbed glass with extremities in brass, crafted with a lathe using a very refined technique that starts with a solid block of the material, conceals light guides used in the automotive sector that make it possible to connect the LEDs contained in the ends of the capsule, conducting the light along the entire length.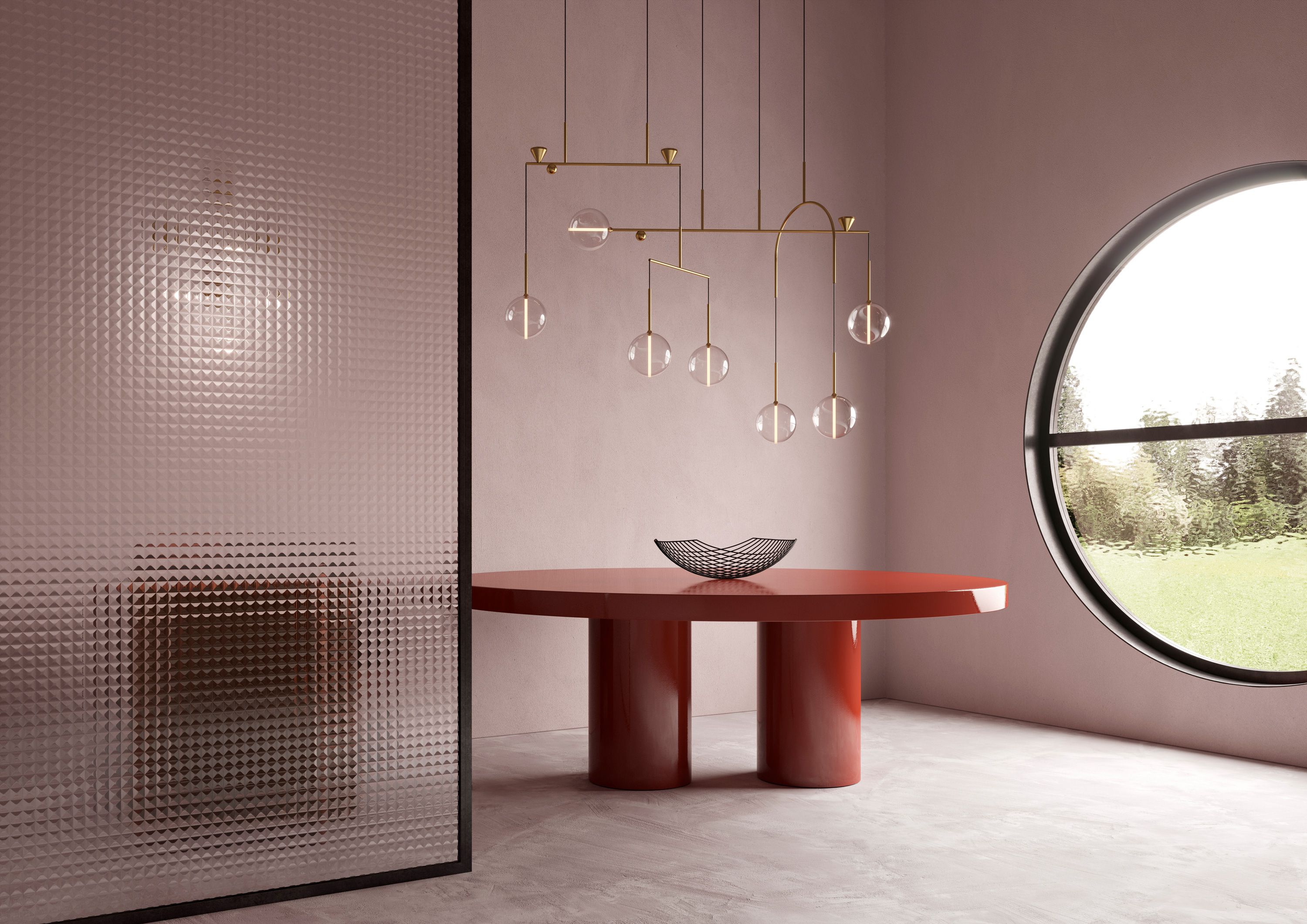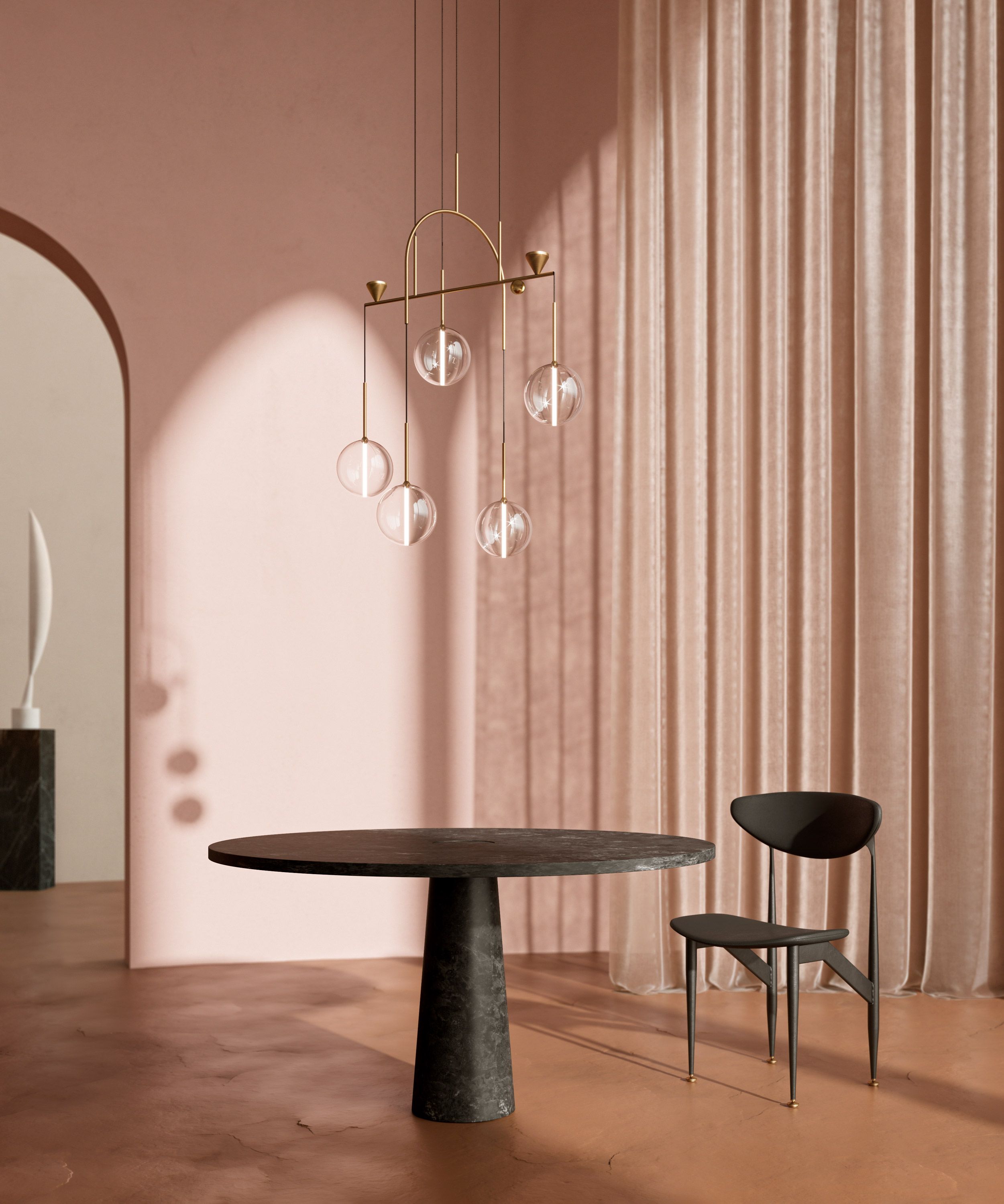 DEWDROPS
A midsummer night, when the sky was full of stars, Christopher and I were strolling in the park. Our attention was caught by small shining dots in the grass around our bare-feet. They were simple dewdrops hanging from blades of grass, hit by the subtle moon light. This ephemeral moment inspired us to develop a balancing mobile lighting structure which suspends dewdrops in the night. We were hit by the magic and beauty of simplicity of nature, and our curiosity led us to create an abstract interpretation. The soft light of the dew drops are supported by an indirect light, emitted upwards by two spotlights, hidden within the brass cones.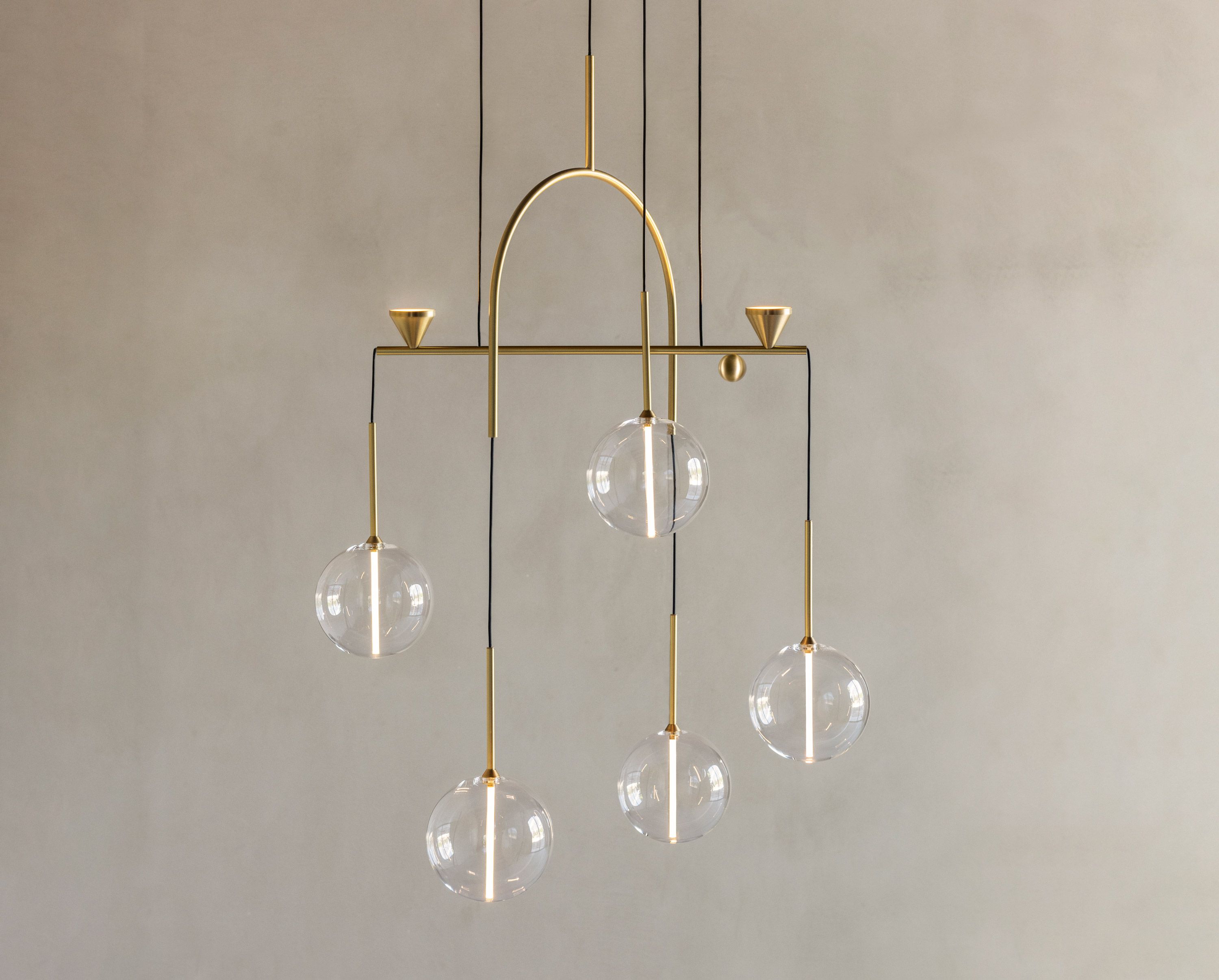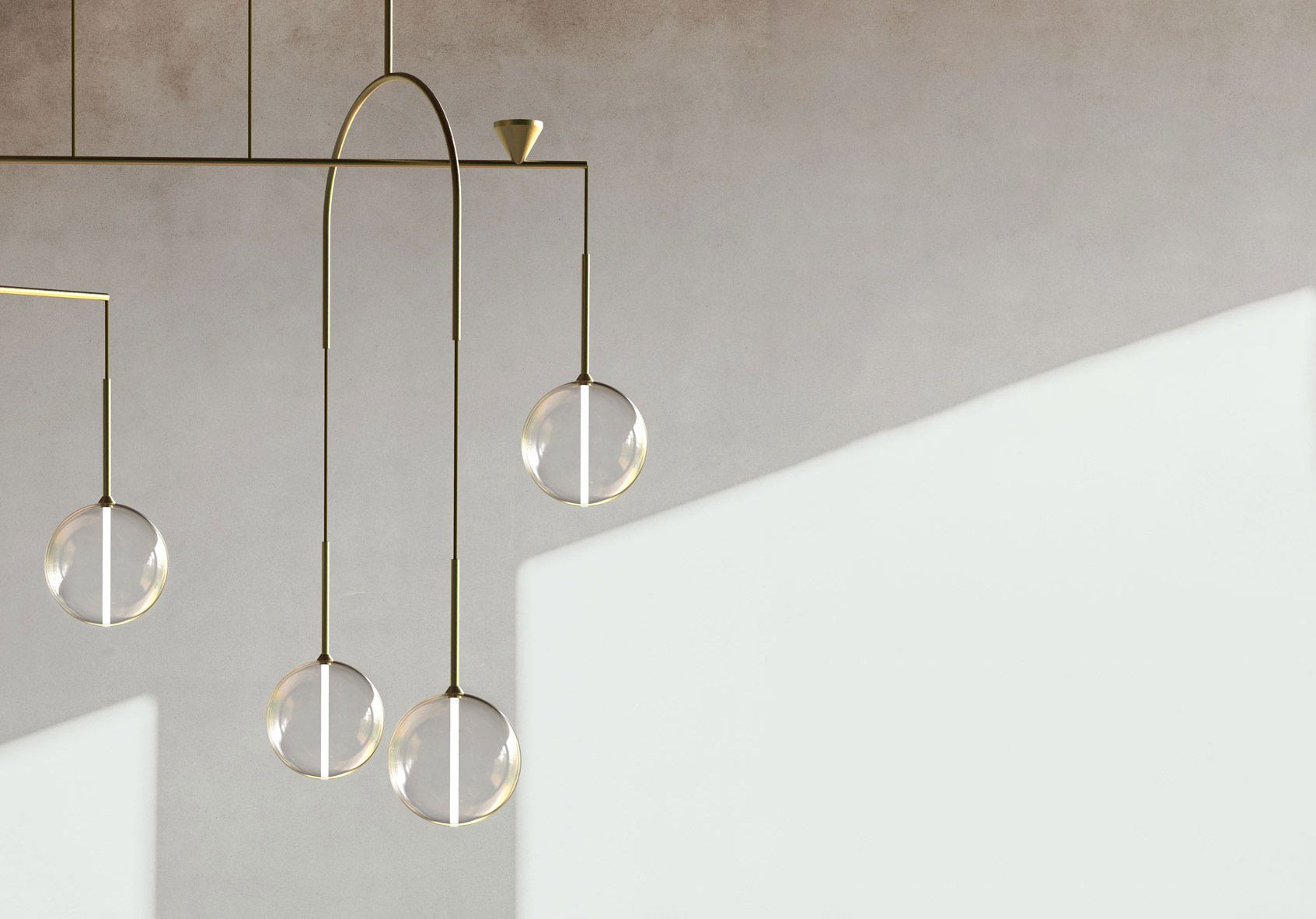 MOONSTONE
Moonstone is a collection of multifaceted pendant lamps inspired by organic rock sculptures: horseshoe-shaped, oval-looking, elongated or facet dome. With the simplicity of their pure design, they summon our most true, uncontaminated thoughts and emotions.
The lamps emit a soft, down-streaming light flow, whilst their opaque, faceted silhouettes become sculptural when teased by rays of light. Their stems are composed of brushed brass rods enclosing white fabric cables.
GIOIELLI
Sculptural appliques that are the result of perfect balance between the metal structure, an iconic, light setting, and the coloured, precious "gems" inserted inside it, in a direct reference and tribute to the painstaking work of the goldsmith. The Gioielli are composed of different combinations of "precious stones": a disk in brass with a "raw" materic surface obtained through meticulous handwork done directly on the model; an emerald green "gem" in blown Murano glass with a particular "battuto" finish; the spherical crystal lens enclosed in a cylinder of shaped brass.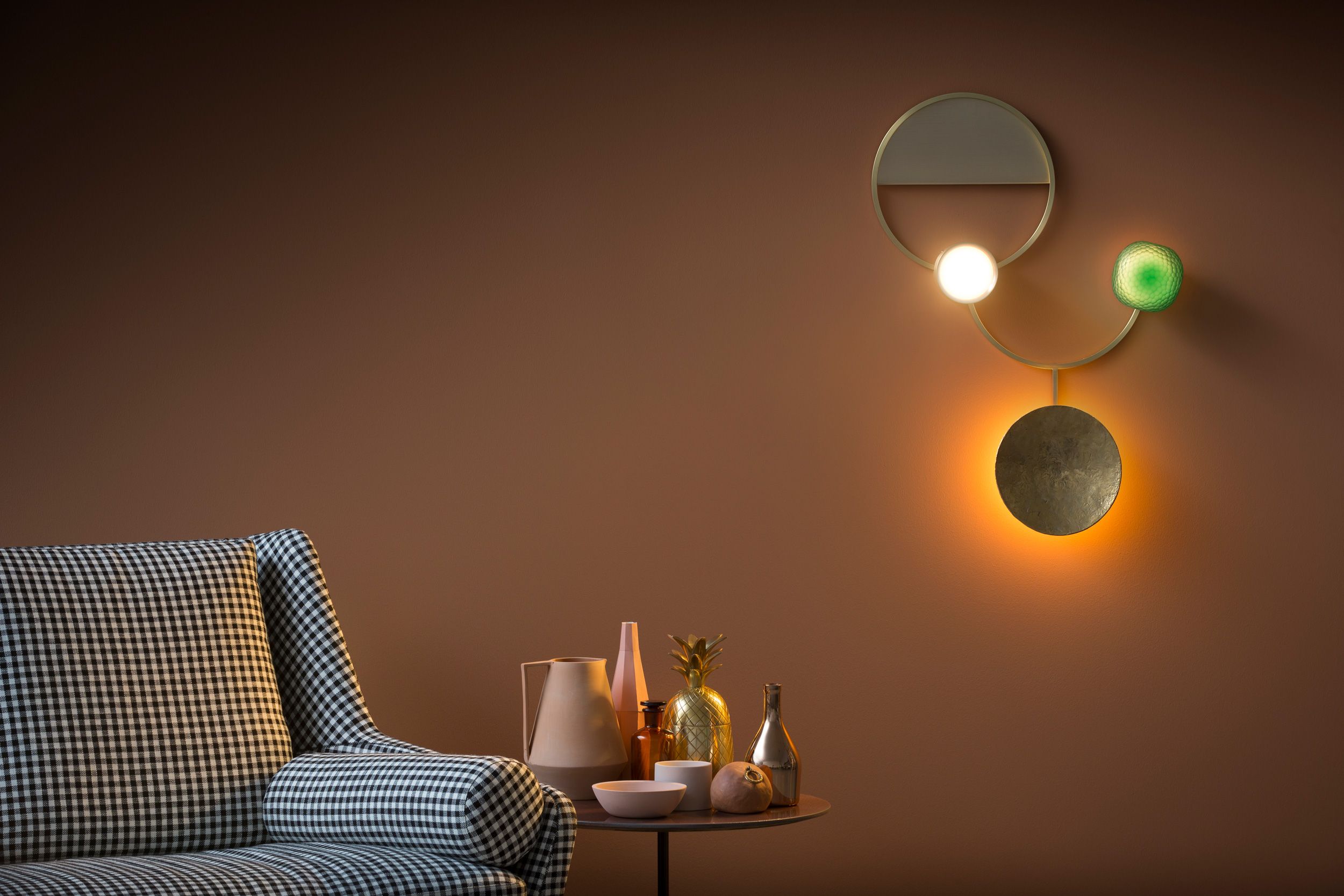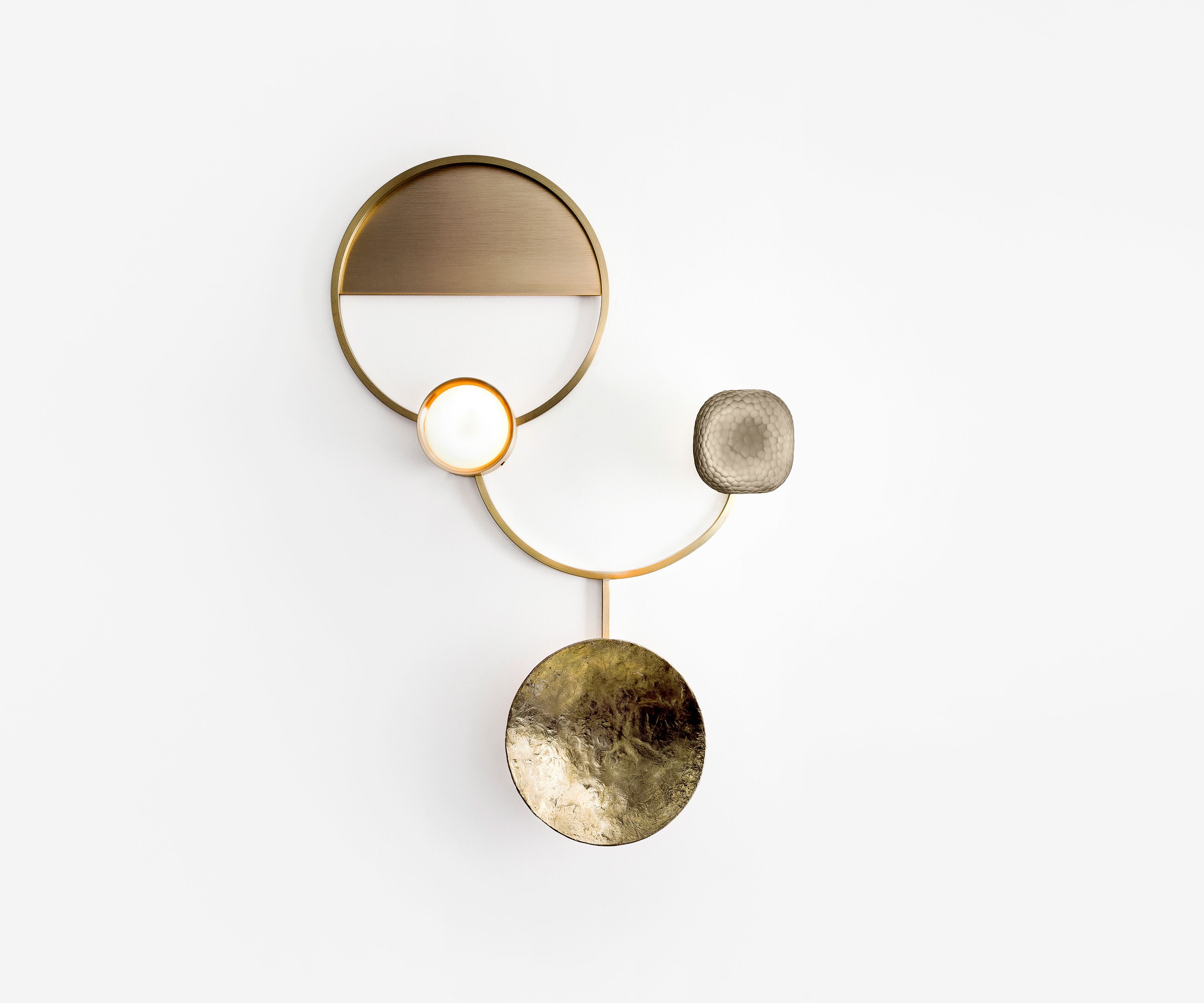 MAEHWA COLLECTION
INTO THE BLOOM
Each of us has experienced, in our lifetime, a sensation that words cannot grasp. It's when we hold our breath lost in a whirlwind of events, and, all of a sudden, we perceive an inner calm, born from a pure connection with nature.
In a park in Seoul, we found ourselves in an emotional turmoil for what was happening around us, and suddenly, we remained suspended for a moment. People of all ages, together with us, were turning their heads up to gaze at the plum blossoms, with their open corolla or with small spherical buds still closed, waiting for them to vibrate in the breeze. Subtle whispers of wonder arose spontaneously.
In the Korean language, maehwa is plum blossom. It's a delicate word, revealing the unexpected gift of wonder.